FROM THE MAG: Patrick Kidd is inspired by Jonny Bairstow and Glenn Maxwell's latest misfortunes as he chronicles cricket's strangest injuries
Patrick Kidd writes the Diary and Tailender columns in The Times. This is an abridged version of his article that features in our Christmas magazine. To read the full version, grab a copy of the magazine by clicking here.
Party games can get rough in the Melbourne suburbs.
Australian media didn't discover what exactly Glenn Maxwell was playing at a friend's birthday party in mid-November – Aussie Bulldog, perhaps, or a particularly competitive Musical Chairs – but it ended up with the allrounder getting entangled with a pal while running round a tennis court, falling over in a knot of limbs and breaking his left fibula.
The accident kept him out of Australia's one-day series with England and a doubt for the Test series in India in February.
England could sympathise with Maxwell's freak injury. In early September, Jonny Bairstow walked off the third green at Pannal Golf Club near Harrogate, slipped on the slope leading down to the next tee, which had been moistened by morning dew, and somehow broke his left leg and dislocated his ankle.
The screams that echoed around that corner of North Yorkshire signalled an end to Bairstow's cricket in 2022.
No T20 World Cup and no Test tour to Pakistan for him.
They're just two more entries in the catalogue of odd non-cricketing injuries and by no means the most bizarre. Here are eight others.
Claude Tozer could have been a Test cricketer had the First World War not got in the way.
Being murdered at the age of 30 didn't help either.
Tozer, who averaged 46.72 in first-class cricket, was selected in 1920 to open for an Australian XI against MCC after scoring 452 runs in three innings. Having made a pair of fifties in that match, newspapers speculated that he was heading for an international call-up.
But just before Christmas he was shot and killed by a patient whom he had been treating for depression in a not entirely professional way. The trial revealed passionate correspondence, though he was engaged and she married.
It emerged that Tozer had visited to end their relationship on the day he was shot. She was found not guilty on grounds ofinsanity.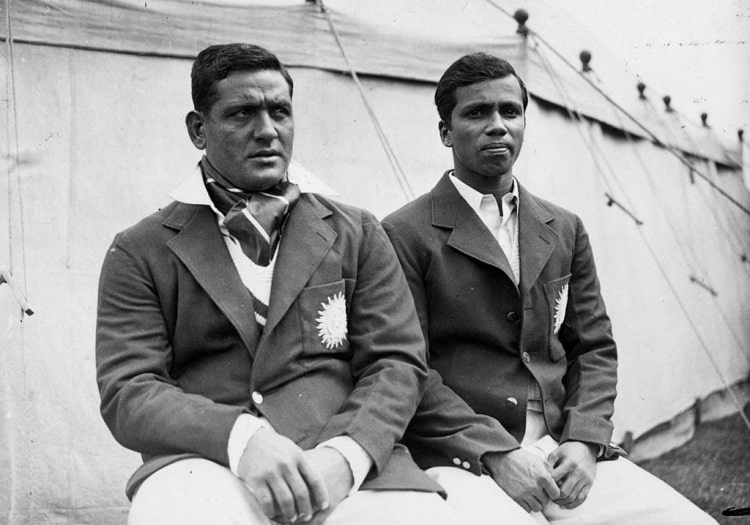 Amir Elahi (left) with Dattaram Hindlekar in 1936 [A. Hudson/Topical Press Agency/Getty Images]
Pakistani international Amir Elahi, decided to dye his hair black before the Test in Kolkata, presumably to appear younger than his 44 years.
Unfortunately, the chemicals in the dye led to irritation in his eyes and the legspinner was able to bowl only six of the 144 overs that Pakistan needed to dismiss their hosts.
Being hit by a car could be bad luck; running yourself over seems cursed.
When Ted Dexter's Jaguar ran out of petrol in west London in June 1965, he decided to push it to a garage. Unfortunately, he lost control, it rolled backwards and pinned him against a warehouse gate, breaking his leg.
The former England captain, who had made 62 and 80 against New Zealand earlier that month, missed the three Tests against South Africa in the second half of the summer and played only twice more for England.


Fred Titmus bowling at Lord's in 1980 [Adrian Murrell/Allsport]
While swimming off Barbados in 1968, Fred Titmus, the England vice-captain, strayed too close to the propeller of a speedboat being steered by Penny Cowdrey, his captain's wife.
Two toes were sliced off and two more needed amputation.
The offspinner recovered, with the help of a ballet school that taught him how to balance, and took 111 wickets in the next county season.
He was more annoyed that the MCC insurance policy paid only £98 in compensation, remarking: "£25 a toe did not seem exactly generous."
Chris Old had the nickname 'Chilly', a reference to his initial and surname, but it could also have applied to an unusual accident on the morning of a Test when he sneezed and managed to pull a rib muscle.
This was merely the oddest of many injuries sustained by the Yorkshire bowler. They once named a bowling machine at Lord's after him because it broke down so often.
Sometimes wrongly related as being injured while writing a letter, Derek Pringle's mishap in 1982 was only marginally less farcical.
He was stuffing an envelope with tickets for the Headingley Test when he leant back, the chair collapsed and Pringle fell to the floor with a back spasm that kept him out of the match.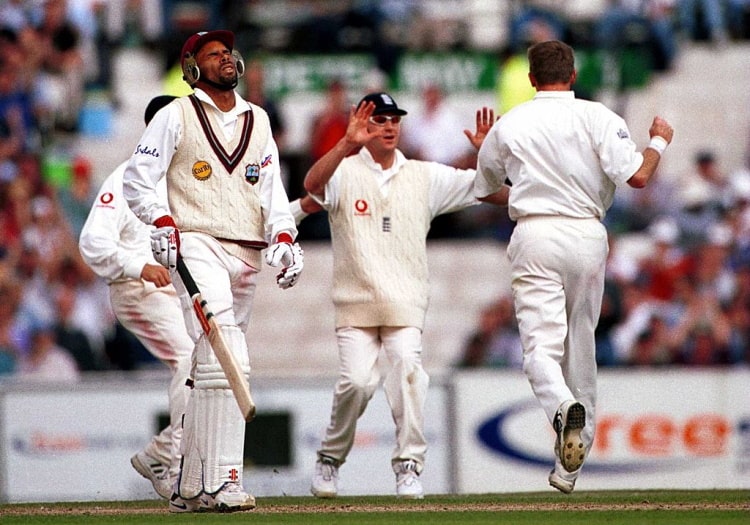 Jimmy Adams being dismissed for the West Indies against England at the Oval in 2000 [Tom Shaw/ALLSPORT]
Jimmy Adams, the West Indies batsman, sliced a tendon in the small finger of his left hand with a serrated plastic knife while on a flight to South Africa in 1999.
The bread roll he was attempting to open was, to be fair, described as 'crusty' and put up a good fight. Adams was ruled out of the Test series.
Making sandwiches can be dangerous: a year later Mark Boucher, the South Africa wicketkeeper, sliced two tendons trying to cut some dried meat for lunch.
Dismissed first ball in a T20 Blast match in 2018, Jason Roy flung his bat to the ground in frustration.
The bat did not care for this treatment and bounced back, striking the Surrey opener in the face. The injury sustained in what he admitted was a "moment of stupidity" kept Roy out of Surrey's next match.
Inside our Christmas issue of The Cricketer magazine, you'll also find:
– George Dobell says Stokes is shaping up to be one of England's greatest captains
– Tanya Aldred revels in the Rawalpindi Test match
– Pakistan legend Wasim Akram is interviewed by James Coyne
– George Dobell reviews the 2022 T20 World Cup in full
– Jarrod Kimber claims T20 champs learnt a lot from the 40-over game
– David Gower talks cricket over lunch with the ab fab Joanna Lumley
– Derek Pringle reviews cricket in 2022
– England Women director of cricket Jonathan Finch is interviewed
– And much, much more
County Championship
T20 Blast
Royal London Cup
Heyhoe Flint Trophy
Charlotte Edwards Cup
Big Bash
CPL
IPL
PSL
The Hundred
WBBL
Fixtures
Results
Averages
Tables
Edinburgh House, 170 Kennington Lane, London, SE115DP
Welcome to www.thecricketer.com – the online home of the world's oldest cricket magazine. Breaking news, interviews, opinion and cricket goodness from every corner of our beautiful sport, from village green to national arena.